Individual Tutoring
$125 Per Session
Private, In-home Tutoring
60-90 Minute Sessions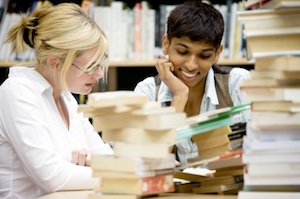 Benefits of Individual Tutoring
We specialize in private, one-on-one tutoring in math, biology, chemistry, and physics. Whether you missed class and need to get caught up, got a bad grade and don't have a clue, or want to be top of the class, we recommend booking an individual tutoring session with us.
Our tutors are highly-trained experts in their subject areas who work with students and learning styles of all kinds. In a one-on-one session we are able to quickly assess what students are missing and get them back on track.
Our tutors will meet at your home or a local library, coffee shop, or other convenient location. This saves you the time, money, and hassle of getting to and from a tutoring center during heavy traffic.
A little over half of our students meet on a regular weekly basis, others just meet before tests or quizzes. Our tutors are very good so we rarely have to meet more than once a week unless we're tutoring for multiple classes. If our tutor can handle it, we allow sessions to be split between subjects - i.e. geometry/biology, algebra 2/chemistry.
Tutoring sessions last 60-90 minutes depending on how much information needs to be covered, how quickly the student is able to learn, and the mental endurance of the student. Our average session lasts about 75 minutes.
We charge a flat rate for several reasons:
The student can focus better if the session is flexible because they're not worried about the clock. They don't panic to cover everything in 60 minutes and freak out if it couldn't be done.
 
The human brain's ability to process information diminishes quickly after 60 minutes of intense learning. By the time 75 minutes rolls around our students are visibly tired and often need a nap! Pushing too long can scramble information so we only use the full 90 minutes if necessary.
 
We spend time and expense traveling to and from your home.
We are available 7 days a week and tutor mornings, afternoons, evenings, and nights.
We charge a flat rate of $125 per session, no minimum number of sessions required.
Small Group Tutoring
$50-$75 Per Session
Private, In-home Tutoring
60-90 Minute Sessions
Benefits of Small Group Tutoring
Our tutors can best help students best in a one-on-one setting but we also encourage students to find others in their class who want extra help because small group tutoring has many benefits, including:
Students are more likely to ask for help from other students when they need help.
Students are more likely to teach others in the group, increasing their own understanding of the material.
Students often band together and meet outside of class to study.
Students don't feel stupid or alone when they are struggling. Seeing others in the group struggle makes them realize it's not just them.
A great value for the reduced rate.
To encourage small group tutoring we structure group rates differently than other tutoring companies, which charge nearly the same rate per student as for a one-on-one session. We only charge an extra $25 per student, making our rates affordable for many more families:
2 students: $150 per session ($75 per student)
3 students: $174 per session ($58 per student)
4 students: $200 per session ($50 per student)
We recommend having 2-4 students relatively close in ability. If one student is trying to ace exams while another is trying to pass the class with a C, our tutor will have difficulty teaching material at both levels.
The same details as individual tutoring apply (above): we'll meet any day, any place, any time, and the sessions last 60-90 minutes. Groups usually run closer to 90 minutes because there are more students to help.
Subjects and Levels
Math, Biology, Chemistry, Physics
Elementary, Junior High, High School, College, University
Math
Pre-Algebra
Algebra 1
Algebra 2
Geometry
Trigonometry
Pre-Calculus
AP Calculus AB/BC
College Calculus
Biology
Physical Science
Biology
Honor's Biology
AP Biology
College Intro Biology
Chemistry
Chemistry
Honor's Chemistry
AP Chemistry
College Intro Chemistry
Physics
Physical Science
Physics
Honor's Physics
AP Physics A
High School
East Bay Tutoring is the Bay Area's premier math and science tutoring and test prep company for a reason: we only tutor math and science and we do it very well. We specialize in high school level courses in math, biology, chemistry, and physics, and we tutor all levels. There isn't a high school class our tutors can't handle expertly, including Honor's and AP courses.
Elementary School and Junior High
While we specialize in helping high schoolers stay on top of their tough math and science courses, we are equally enthusiastic about helping younger students develop basic skills in math and science. Math is especially crucial because concepts accumulate rapidly year-to-year. If a student develops weaknesses in arithmetic or basic algebra, those weaknesses can cause bad habits, low self-esteem, and poor grades that will continue to devolve through middle school, high school, and college.
Our tutors focus like a laser on developing the right problem-solving skills and making sure the student follows proper protocol for solving problems. We don't let students be messy with their work or do work in their heads until they've earned the ability to take shortcuts by proving they've mastered the skills on paper and with high accuracy. Once they have mastered basic skills, we encourage and help develop mental math skills.
Community College, College, and University
There are few tutoring companies with tutors skilled enough to tackle college-level courses, but we have them. We work with students in introductory biology, chemistry, physics, and math courses.